Snap Stand
High Definition Camera
12.9″ Interactive Touch-Screen Monitor
Wi-Fi Connectivity
Attractive Design
Custom Graphics
Professional Lighting
Small Footprint 12.5″ wide x 61″ high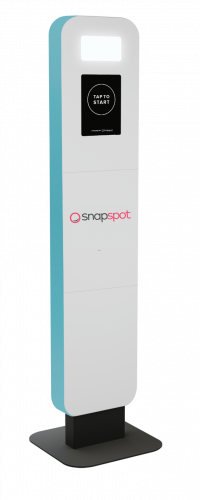 It's a bird. It's a plane.
It's a … boothless photo booth!

Unscrunch your memories with Snap Stand. Most photo booths cram your guests in like clowns in a tiny car at the circus. Oh look, there's Aunt Margaret's ear and Uncle Joe's chin. Oh … the memories. But not anymore.

Snap Stand offers squish-free photos with plenty of room for the rest of Aunt Margaret and Uncle Joe's faces. It's full facial fun for everyone. Add costumes and Snap Stand is the life of the party, breaking the ice, connecting your guests and snapping countless smiles for precious keepsakes.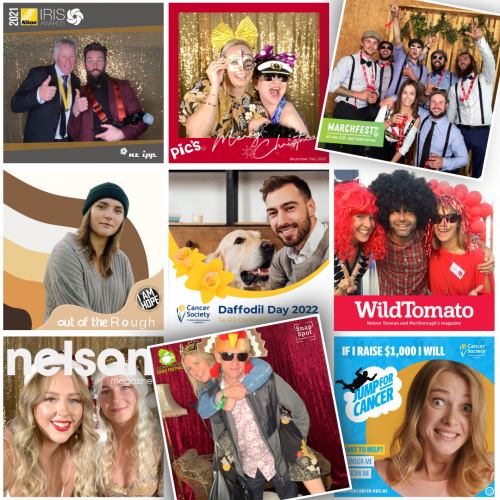 PERSONAL ATTENDANT (Optional)
Your friendly Snap Stand attendant keeps the smiles rolling and the photos flowing.
SOCIAL MEDIA
Guests can share photos via Facebook and Twitter. You can add custom hashtags and captions.
EMAIL
Guests can send themselves their photos right from the Snap Stand.
CUSTOM FRAMES
Create a custom frame for photos from your special event or let us do it for you.
FILTERS
Oh, filters, we love you so. We have color, black & white, sepia, cartoon, sketch, Warhol, night vision, thermography, pixel art, comic book, mosaic and cross process. Play with the filters until you find the perfect one for your photo.
SMS TEXT
Guests can text the picture to themselves for easy sharing from their smartphone.
BRANDING
You can add your logo or special message on the Snap Stand and all your photos.
GREEN SCREEN
Stand on an elephant, balance on the tip of the Eiffel Tower or swim with sharks. With our green screen, your imagination is your only limitation.
BACKDROPS
We have a wide array of backdrops from which to choose or we can make a custom backdrop for you.
PROPS
Take the fun up a notch with mad props. Perfect for breaking the ice and bringing out your guests' silly sides. Our prop kit includes hats, goofy glasses, boas, tiaras and more.
CUSTOMIZE
Add and subtract features for your event and multiply the fun.
VIRTUAL PROPS
Add fun props after you take your photos.
CUSTOM STICKERS
Add a palm tree, beach or other scenery in post-production.
ONLINE PHOTO ALBUM
Enjoy your photo fun again and again with an online gallery for your event.
ANIMATED GIF & BOOMERANG
Snap, snap, snap. We'll take four pictures to animate, or record a loop of whatever you do for 2secs so your special day comes to life.
Snaps at the Tribe Christmas Party was such a treat. Our guests had so much fun and laughter. Plus we ended up with pictures so gorgeous, I use mine as my Facebook profile pic.
They really thought about the audience and the theme of the Festival. What really appealed to me about was its simple set-up, and people could get their photos instantly. People really enjoyed it and our team got a photo too – we didn't want to miss out!
The Brand Cam was a huge success – a lot more popular then i ever imagined. People were sharing photos and talking about it for days.  With much to coordinate, (venue, catering, entertainment etc) one of the best things about Snaps was the ease and efficiency of it all.